Get your 2 FREE Autoblow 2XT Machines NOW
Get on board with the must have, latest technology pleasure machine for Men.
CALL 07 3203 0344 or email on our contact page and get your 2 FREE Autoblow 2XT Machines sent to your business today.
Changing the way men stimulate, this range of blowjob machines are now the leading sex toy for men. Using a gripper to surround the sleeve and a mains powered motor to stroke up and down, this truly revolutionary sex toy with a hands free experience. This product has gone viral worldwide and is now gaining traction in Australia.
It comes in 2 models, the Autoblow 2XT (Extra Tight) and the Autoblow A.I which used artificial intelligence to read over 1000 hours of adult films broken down to 109 hours of oral sex to come up with the top 10 best blowjob techniques and programmed it into the machine as functions.
Daring Adult Wholesale, the exclusive Australian distributor for Autoblow, are offering 2 Autoblow 2XT machines completely FREE for any new wholesale customers so you can see for yourself that this product will be your new best selling men's product.
Daring Adult Wholesale is a new Australian Adult Wholesaler with a warehouse located in Narangba, Queensland, with 30 years' experience in adult retail, read more about us here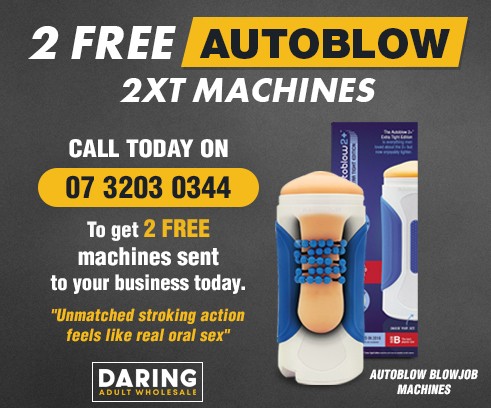 Terms and Conditions
Offer available for bonified wholesale customers only
Must own an Adult Industry Retail Company to qualify
Australian Company ABN is required for free Autoblow 2XT Offer
Daring Adult Wholesale reserves the right cancel this offer at any time.