HiSmith - Premium Sex Machine (Remote and App)
Meet the HiSmith Premium Remote and APP-Controlled Sex Machine! Powerful, sturdy, and fully adjustable: this is THE Fucking Machine everybody wants to get their hands on!
At Daring Wholesale, we supply the HiSmith Premium Sex Machine for either wholesale or drop shipping to retailers. See why HiSmith is the name in the game when it comes to sex machines!
A high-quality pleasure-focused machine, the HiSmith Premium Sex Machine will allow your customers to discover a side of them they didn't know they had. 
Designed to last the long haul, and keep up with its users, this machine is made of sturdy high-quality chrome-plated steel.  With solid rods, and no flimsy connections to hinder its powerful thrusting stroke of up to 15cm, you can be confident in its structure and ability to last the distance with you.
No matter what angle or position you enjoy, the Premium Sex Machine can adjust to multi-angles to cater to you, and the handy, easy-to-use power control means you can customize each moment for your specific needs, and it's always within reach!
Compatible with many premium attachments, suitable for males and females… or both, simultaneously. The only limitation with a HiSmith is your imagination! Featuring the ability to add other attachments for players of any anatomy and gender, with the klick-lock attachment systems, this versatile machine is the ultimate in powerful, hands-free pleasure that will appeal to all bodies!
INCLUDES FREE SILICONE DONGS WITH EACH PREMIUM SEX MACHINE PURCHASE
FEATURES:
RRP: $999
Powerful Motor
The core brush motor, with a long life span and high efficiency, provides a powerful and unstoppable thrust you never thought you'd experienced.
Fully Adjustable Angle and Height
No matter the position or angle, HiSmith will have you covered. This machine will be able to keep up, with its 360° rotational adjustment system.

Long and Customisable Thrusting Length
Unlike other awkward products on the market, this machine has an adjustable and long stroke length from 3 to 15 cm and can be easily adjusted via a screw knob. Angle and height adjustment: With quick and easy adjustment of both height and angle, you can quickly set the machine, so it hits the spot. Quick and easy assembly means more time playing and less time building.

Sturdy Foundation and Frame
Two solid T-frame adds an additional 4+ kg to the machine, making it stands firm and steady and grip the ground better!

Precise and Convenient Speed Control
The advancing electrical controlling system will let you adjust the speed from 0 to 240 strokes per minute smoothly and precisely. The valid distance of the remote controller is 20 meters.

Whisper Quiet Motor
Consisting of a new motor and sliding system, make at most 50 dB of noise at full speed. So enjoy your private time with abandon.
Remote and Long-Distance App Control  
With 10-speed patterns to enjoy and a 20m plus remote control distance giving you more play options!
Versatile for Any User 
The machine comes with an 8" realistic silicone dildo; however, the real fun is its versatility! Using a Klick-lock system, all attachments and accessories can be used across machines. One base machine fits all!
Longevity of Machine Life
With an expected working life of 10-15 years with correct usage and cleansing maintenance, your HiSmith will be the best long-term investment you ever made!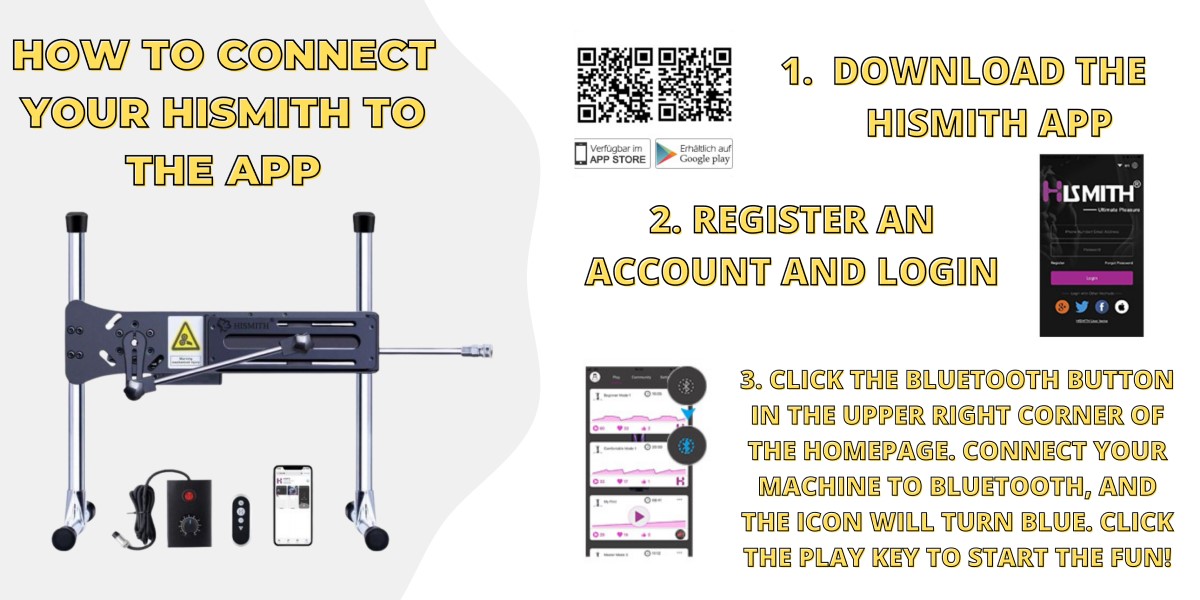 WHAT'S IN THE BOX?
1 x Premium sex machine
1 × Wired speed controller
1 × Remote speed controller
1 x Portable nylon bag
1 x Free  8" (21 cm) silicone dildo
SPECIFICATIONS:
Weight - 11.5 kg
Material - Stainless steel & ABS
Power Type: Direct Source
Input - 110 V - 250 V / 50 - 60 HZ
Output - DC 24V/4.2A (safety voltage)
Motor max power - 100 W
Speed - 0-240 RPM
Torque - 300 N⋅cm
Stroke Length - 3-15cm
Noise - 30-50 dB
Connector - Kliclok connector
Remote control distance - 20 m
RE Product Type
Toys - Extreme
We found other products you might like!